Der heutige 50. Jahrestag der Mondlandung von Apollo 11 ist eine gute Gelegenheit, sich durch die Vielzahl und Vielfalt von Songs zu hören, die der Magie des Mondes huldigen.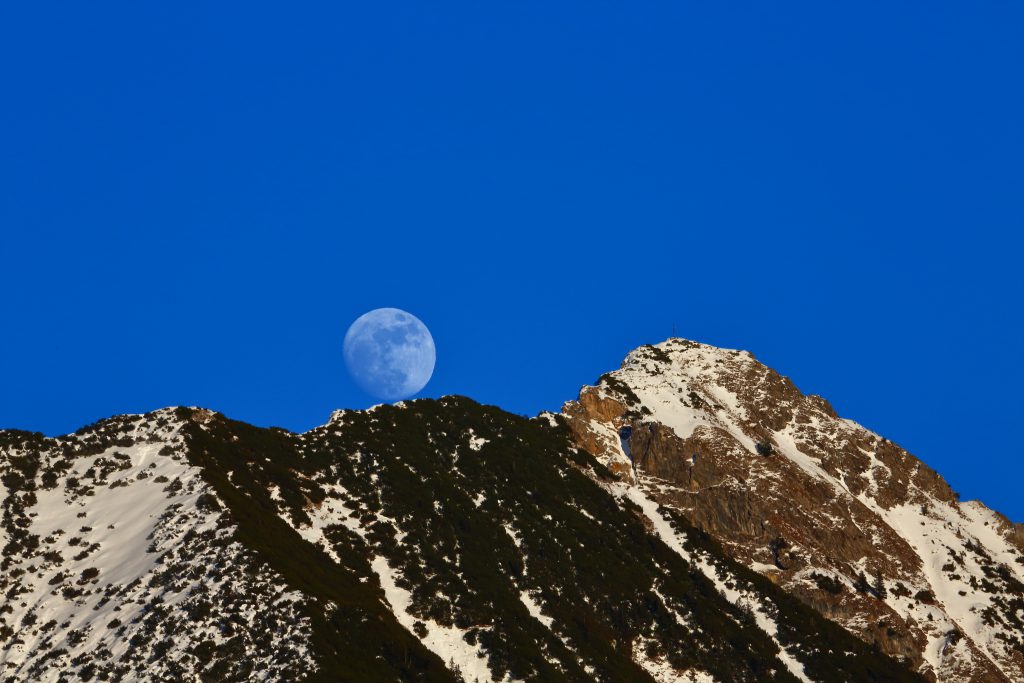 Ich nehme das mal zum Anlass, Euch zu inspirieren, mit meiner persönlichen Top List von Moon Songs. Mein absoluter Favorit ist und bleibt der Tom Waits Song "Grapefruit Moon", dessen melancholische Poesie für mich die stimmungsvollste Annäherung an den mystischen Planeten ist.
Dicht gefolgt vom mich immer noch und immer wieder fröhlich stimmenden "Man On The Moon" von R.E.M. und der ultimativen Pink Floyd Hommage "Brain Damage/Eclipse" vom bahnbrechenden Album "The Dark Side Of The Moon".
Hier die weiteren Highlights meiner ellenlangen persönlichen Mond-Hitliste als Anregung für die Erstellung Eurer eigenen Playlist. Ich denke, da ist für jeden was Passendes dabei. Viel Spaß beim Stöbern, Entdecken und Hören.
Konstantin Wecker – An den Mond
Moondance – Van Morrison
Moon River – Audrey Hepburn
Moon Never Rises – Calexico
Moonlight Drive – The Doors
Damals Hinterm Mond – Element Of Crime
Moon When The Cherries Turn Black – The Pines
Walking On The Moon – The Police
Red Moon – The Walkmen
How High The Moon – Ella Fitzgerald
The Tide Pulls From The Moon – William Fitzsimmons
Moon Over Bourbon Street – Sting
Flower Moon – Vampire Weekend
The Moon Undoes It All – Songs:Ohia
Black Moon – Wilco
The Moon Is A Blind Eye – I Am Kloot
Moonshine – Shawn Phillips
Moonage Daydream – David Bowie
Pink Moon – Tash Sultana
The Whole Of The Moon – The Waterboys
Fly Me To The Moon – Frank Sinatra
My Moon My Man – Feist
Harvest Moon – Neil Young
Bad Moon Rising – Creedence Clearwater Revival
White Moon – The White Stripes
The Moon And The Sky – Sade
Moonchild – Rory Gallagher
Moonlight In Samosa – Robert Plant
The Laughing Moon – Phillip Boa And The Voodoo Club

Paul Kelly – Rising Moon
Moon Moon – The Nits
Pink Moon – Nick Drake
Full Moon Rising – Neil Halstead
Moon Girl – Luluc
Kiko And The Lavender Moon – Los Lobos
Blame It On The Moon – Katie Melua
Junimond – Rio Reiser
Kate Rusby – Hunter Moon
Moonshine – Free
Unterm Säufermond – Udo Lindenberg
Full Moon – The DeSoto Caucus
Moonshine Got Me – Daniel Norgren
Crescent Moon – Cowboy Junkies
Eyes Of The Moon – The Choral
Moonshadow – Cat Stevens
Bajo La Lune Mexicana – Concrete Blonde
Many Moons – Chris Eckman
The Moon – Cat Power
I'll Shoot The Moon – Tom Waits
Moonshake – Can
Roter Mond – Herbert Grönemeyer
Moon Is On The March – The Builders And The Butchers
Moonlight – Bob Dylan
Blame The Moon – Beth Hart
Midnight Moonlight – The Be Good Tanyas
Mountains On The Moon – Al Deloner
Max Raabe – Ich sing Am Liebsten, Wenn Der Mond Scheint
Über Dir Der Mond – Element of Crime
Und ganz zum Schluss, weil ja auch der Mars inzwischen erobert wurde, hier noch der Mars-Song für die Ewigkeit – "Life On Mars" vom unsterblichen Major Tom der Popmusik, David Bowie.